Fine & Candy operate from a family house in south west London. In that home they make the following goodies:-Biscuits, Cakes, Desserts, Ice cream, Marshmallows, Pastries, Puddings, Sweets.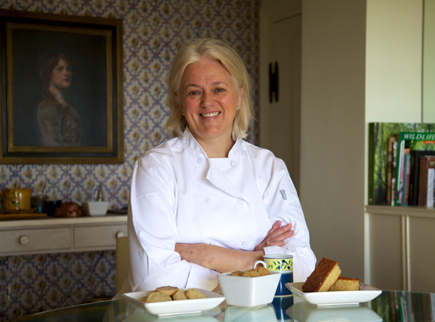 About Fiona
I never planned to be a cook, but with hindsight I shouldn't be surprised that that is what I most like to do. My earliest memories are of being surrounded by food and cooking, all under the watchful eye of my mother, whose lodestar was a conviction that the shared enjoyment of lovingly prepared food made the world a better place.
A generation later, I attended Leiths School of Food and Wine to get a formal education in what by now was my passion.
These days my cooking leans towards the softer side of life, reflecting my belief in the need for sweeter things as the world around us gets ever crazier.
Lovely Desserts
Coffee ice cream with honeycomb.  This recipe is from an old friend of my mother which was handed down from her mother (allegedly!)  Try some.  It is rich and creamy and according to my official taster Rebecca, 'this is in my top ten puddings of all time'.  Made to order.
Tasty Treats
Tired of taking chocolates as a present?  Try the marshmallows.  They come in 12 different flavours: Vanilla, Rose, Coffee, Chocolate, Fresh Lemon, Fresh Orange, Fresh Lime, Ginger, Date & Honey, Mint, Violet and Lavender.  Light as air and described by one devotee as 'like eating clouds'.  Made to order.
Splendid Flavours
Orange madeleines, soft nougat, buttery lavender shortbread, damson ice cream, black sticky gingerbread, lemon drizzle cake, cardamom and orange banana bread, shortbread cookies with granadilla cream (for those who don't hail from South Africa that is passion fruit cream!)  Gorgeous flavours are what we do. So come and share with us.